The
dog breath gloves
are leather quality gauntlets. They are dropped by various named gnolls in Blackburrow.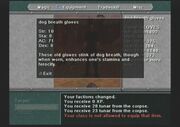 These old gloves stink of dog breath, though when worn, enhances one's stamina and ferocity.
Statistics
Edit
Classes: MNK BRD RGE DRD ALC
Races: ALL
Item Level: 30
STR: 10
DEX: 8
STA: 8
AC: 71
Appearance
Edit
The dog breath gloves use the ?? model.
Drop Information
Edit
The dog breath gloves drop from various assassin gnolls in Blackburrow, including Assassin Daegerd and Assassin Delgersh.