The
dog breath leggings
are a leather quality tunic. It is dropped by various named gnolls in Blackburrow.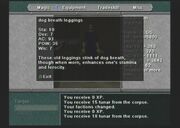 These old leggings stink of dog breath, though when worn, enhances one's stamina and ferocity.
Statistics
Edit
Classes: MNK BRD RGE DRD ALC
Races: ALL
Item Level: 30
STA: 10
DEX: 7
WIS: 7
POWER: 35
AC: 93
Appearance
Edit
The dog breath leggings use the ?? model.
Drop Information
Edit
The dog breath leggings drop from various assassin gnolls in Blackburrow, including Assassin Daegerd and Assassin Delgersh.