Leggings of sureshots
are chain quality leggings. Prior to the introduction of crafted armor, they were a highly sought after item, providing a substantial amount of STR.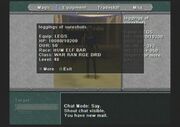 [edit] Statistics
Edit
Classes: WAR RAN RGE DRD
Races: HUM ELF BAR
Item Level: 48
[edit] Appearance
Edit
Leggings of sureshots uses the light green chain model.
[edit] Drop Information
Edit
Unknown.