The
packmaster shield
is a tear shield.
A heavy tear shaped shield used by the warrior packmasters of Blackburrow.
Statistics
Edit
Classes: WAR PAL SK CL
Races: ALL
Item Level: 31
DEX: 5
WIS: 5
STA: 5
HP: 22
POW: 22
AC: 252
Appearance
Edit
The packmaster shield uses the tear shield model.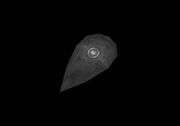 Drop Information
Edit
The packmaster shield drops from various gnoll pack masters in Blackburrow, including Pack Master Azerif and Pack Master Legurf.