Zones are the means by which EQOA divides up the continent of Norrath. Travel between zones typically involves a progressive increase in the average level of mobs encountered within the zone. Transition between zones is seamless (there is no loading time when moving from zone to zone).
Norrath (mainland)
Edit
An 11x14 grid comprises the zone structure of the Tunaria mainland.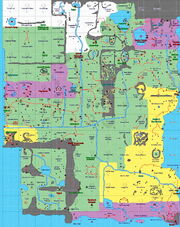 The bottom-left most section of twelve zones was not originally available in EQOA: Classic. The gates to the so-called "Great Unknown" were opened with the release of EQOA: Frontiers (in addition to Lavastorm in the far north east, and its associated raid zone, Solusek's Eye).
Travel between zones vastly differing in level range was often impeded or prevented by impassable mountain ranges, the most obvious of which divides zones such as Diren Village from Gramash Ruins and Anu Village from Frosteye Valley. This prevented new players in areas such as Halas from inadvertantly wandering into zones with level 50 (or higher!) mobs. In other starting areas, such as Grobb or Oggok, players are not afforded such protection.
The following table provides links to separate pages about each particular zone.
A 4x4 grid comprises the zone structure of the island of Odus.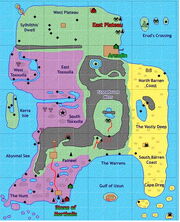 | | | | |
| --- | --- | --- | --- |
| Sylhilthis' Dwell | West Plateau | East Plateau | Erud's Crossing |
| West Toxxulia | East Toxxulia | Arcadin | North Barren Coast |
| Kerra Isle | South Toxxulia | Stonebrunt Mountains | The Vastly Deep |
| The Hunt | Stone of Morthalis | Gulf of Uzun | Cape Dred |
Isle of Dread (Plane of Fear)
Edit
A single zone comprises the Isle of Dread.
Plane of Sky
Edit
TBD.
Plane of Disease
Edit
A single zone comprises the Plane of Disease,
Last Home
.